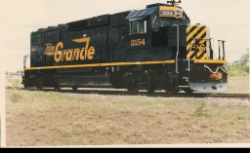 Welcome to the RRPictureArchives.NET contributor site of Patsy Ghysels.

This is Diesel Detail Lady, formerly of Caboose Hobbies in Denver Colorado.

Most of my photos will be of the Denver & Rio Grande Western. These photos, unless notated, will have been taken by the Late Phil Ghysels.

Our journey in Colorado took us almost anywhere our Scanner Network took us. Our friends were fellow DRG&W employees, Cabbose Hobbies friends and our children Andy & Lisa.

Phil worked for the Chessie Systems, BN, DRG&W, SP, UP and his final railroad was the CSX. We modeled HO scale trains mostly DRGW, BN and Leased Power. Phil was the painter and Patsy detailed and decaled. Patsy was one of the Caboose Hobby employees that did a PBS series on Model Trains. Most of all, she loved to spend other people's money at the Caboose. Someday, you will see here the most detailed SD40-T2 DRG&W engine ever. Phil was a railroad machinist. So, I'm sure there wasn't a detail that he didn't add to these two. I will give you a peek at the undec. version though.

Probably our most momentus Railfan Trip was the UP 844 Steam Excersion.

Phil's complete collection is available in Denver by contacting Mike McGowen.



Foamer
Patsy Ghysels
ghysels.patsy@comcast.net


You may browse my collection of pictures via the menu located on the left hand side of the page. I hope you enjoy the collection and thanks for stopping by!
Note: This site is best viewed in Internet Explorer 6.0 or above.
Select one of the links from the menu on the left to begin browsing the collection.